Custom Janitorial Services For Offices, Restaurants & More
SAN ANTONIO'S PREFERRED COMMERCIAL CLEANING COMPANY
Let Our Team Keep Your Facility Pristine With Commercial Janitorial Services
Don't let a dirty office space turn away customers. At 1st Call Cleaning, we're proud to be a leading provider of janitorial cleaning services across San Antonio, Texas. We serve a variety of facilities, including offices, restaurants, schools, hotels, banks, hospitals, gyms, and more. We take great pride in efficiently and effectively helping business owners maintain a clean and healthy environment for their employees and customers. Interested in learning more? Contact our commercial janitorial company today!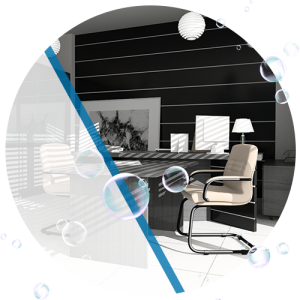 Why Work With 1st Call Cleaning Services?
We Are Local, Licensed, And Insured
Our Team Has 20 Years Of Commercial Cleaning Experience
All Staff Is Trained In-House
We Never Make You Sign A Contract
We Offer A 14-day Free Trial
Professional Janitorial Services
Experienced And Professional Janitorial Company Providing Superior Janitorial Services In The San Antonio Area
✔️ Based In San Antonio, Licensed, And Insured
✔️ 20 Years Of Experience Providing Top-Notch Janitorial Services
✔️Trained In-House Staff — No Third-Party Contractors
✔️No Contracts
✔️Free 14-Day Trial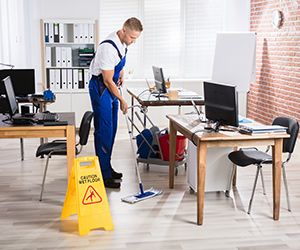 Cleaning Your Business Is Our Business
Imagine leaving the office and knowing that when you return, you'll be greeted by an ultra-clean and sanitized facility. Sound too good to be true? It's not. This is the exact type of service that 1st Call Cleaning Services specializes in. For 20 years, we have been providing the Greater San Antonio area with unrivaled cleaning services. This has earned us the title of being one of the best janitorial companies in the area. How did we earn this? Simple — we take great pride in everything that we do, and we let honesty, professionalism, and our unrivaled commitment to customer satisfaction guide all that we do.
Our Janitorial Cleaning Services
As a full-service janitorial cleaning company, we strive to be able to handle all of your cleaning services. Whether you need wastebaskets emptied daily or your windows cleaned once a month, we can handle it. We allow our customers to choose the cleaning services and times that work for them and their budget. Below are some of the janitorial services that we regularly perform: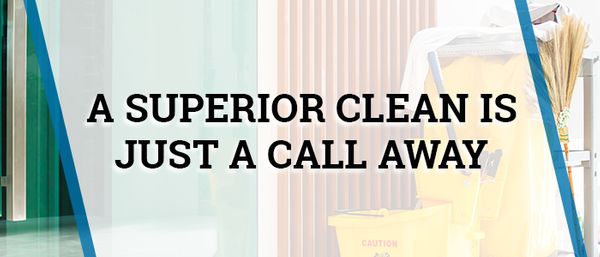 Office And Lobby Cleaning
The lobby is an important part of any business or commercial space. This is the area that often controls a customer's first impression of your business. We have extensive experience keeping offices and lobbies clean and making them look their best. Below are some examples of what our lobby cleaning services might include:
Empty and replace trash receptacles
Vacuum carpet
Clean water fountains
Dust
Sweep and mop
Disinfect surfaces
Cleaning entrance glass and windows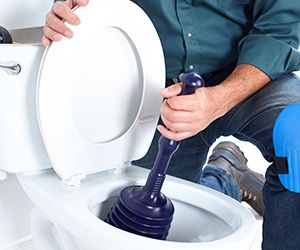 Restroom Cleaning
Keeping restrooms stocked and clean is a necessary task for all businesses and facilities. Not only does this reduce the spread of bacteria and germs, but it also shows that you value your customers and workforce. Below are some examples of the restroom janitorial services that we regularly provide:
Empty and clean receptacles
Stock towels, hand soap, and other essentials
Clean and sanitize urinals and toilets (both outside and inside)
Scour and sanitize basins
Dust and sweep
Clean and polish mirrors
Sweep, mop, and clean floors
Breakroom Cleaning
Any place where food is stored and consumed needs to be cleaned. However, because of the nature of lunchrooms and breakrooms, they tend to become dirty fast and often. This is why it is crucial that your workspace has a regular cleaning schedule in place. At 1st Call Cleaning Services, we routinely clean breakrooms and other areas designated for eating. Here are some of the specific cleaning services we often perform:
Empty, clean, and replace all trash receptacles
Dust and mop hard surfaces
Vacuum and clean carpeted surfaces
Mop and clean spillage or soiled areas
Clean and disinfect chairs and tables
Sanitize drinking fountains
Wipe down countertops
Clean sinks and spot-clean cabinets
Custom Janitorial Cleaning Services
We understand that just as not all companies are the same, neither are their cleaning needs. When we say that our goal is to deliver the cleaning services you need, we mean it. This is why we allow our customers to customize a cleaning plan that fits their specific needs, schedule, and budget. Whether you just need restroom cleaning services or a combination of services, we will work with you to find a program that is tailored to your individual needs.
Full-Service Clean
We take pride in helping our clients efficiently and effectively maintain a clean and healthy environment. Part of what makes this possible is our flexibility and ability to handle just about every cleaning service you may need. In addition to all of the cleaning services listed above, we can also handle window cleaning, vent cleaning, carpet cleaning, ceiling and wall cleaning, porter services, and much, much more. Contact us today to learn about the extent of our janitorial cleaning service.
Ready to get dependable, high-quality janitorial services to keep your facility clean and safe? We're ready to deliver! Sign up today to start your 14-day free trial.
Facilities We Clean
For the most part, our janitorial cleaning company can work with businesses in just about every industry. From offices to restaurants to medical facilities to gyms, our professional janitors can expertly handle any type of facility. Below are just a few of the facilities we routinely clean: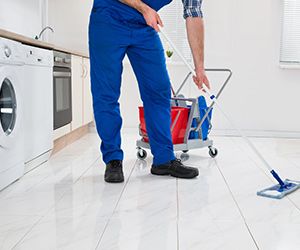 Offices
Restaurant
Schools
Banks
Hotels
Hospitals
Gyms
Dealerships
Tech facilities
Manufacturing facilities
The list goes on and on
Why Call 1st Call Cleaning Services For All Your Janitorial Services?
If you are looking for a janitorial company in San Antonio, chances are that you are unhappy with your current cleaning arrangement. Whether you have been over-promised and under-delivered or simply don't have the time to continue handling your own cleaning services, we are prepared to provide you with the quality and dependability you deserve. At 1st Call Cleaning Service, it is our goal to raise the San Antonio standard with unrivaled cleaning services. We know that commercial cleaning isn't just about what the customers see, it's also about how they feel. Below are some of the qualities that set our janitorial company apart from the rest:

Experience — We have been providing janitorial services for 20 years. While experience doesn't always equate to expert services, we make sure that it does. As a janitorial company, we have made it a point to learn from our mistakes and leverage our experience to provide our clients with superior service and advice.

Professional — Our cleaners are professionals. Not only are our janitors knowledgeable, but they are also equipped with the latest technology required to provide a quick, thorough, and high-quality clean.

Custom — When you go to the store for bread, you aren't forced to get donuts and milk as well. This is the same approach we take with our janitorial services. We let you choose the cleaning services that fit your needs and budget. Whether you need a one-time clean or weekly cleaning service, we let you define the scope of the service.

Fully Insured — Accidents happen. While you can't always prevent them, you can prepare for them. As a business owner, one way you can do this is by working with service providers that are fully insured. In the event of an accident, you don't want to be held liable for any injuries and compensations. We carry both General Liability and Workman Compensation and are happy to share our credentials upon request.

Routine Inspections — We take accountability to a whole new level through routine inspections. We perform inspections both before and after cleanings. This allows us to see exactly what services you need — not just what we want to provide. And through post-service inspections, we are able to ensure that your requested services are perfectly executed and satisfied.

Trust — To be a part of the 1st Call Cleaning Services team, our employees have to uphold our values — honesty, professionalism, hard work, customer service, etc. By adhering to this philosophy, we are able to have full trust in our janitors, which means you get to as well.

Dependability — we only employ qualified and skilled janitorial professionals who are dedicated to providing outstanding results night after night. Whether you need daily or monthly janitorial services, we will arrive when we say we will. On top of this, you can rely on us to provide top-notch services.

24-Hour Access — Regardless of when you choose to have your facility cleaned, we want you to always be able to reach us. This is why we have a 24-hour-access policy. Anytime you have a problem, you can rest assured that our management team is just a call away.

No Contracts (ever) — Since day one, we have been against contracts. We don't believe in them. Instead, we focus on providing unrivaled convenience, professionalism, and cleaning services — the type of work and services that build trust, strengthen relationships, and don't require contracts.

Cost-Effective — In addition to offering cleaning services at competitive prices, we also strive to save you money in other ways. For instance, by using industry-leading equipment, promptly communicating issues, and keeping your facility clean and sanitized, we are able to save businesses money in the long run.

Free 14-Day Trial — Yep, you read that right! We are so confident in our janitorial services that we offer our new customers a free 14-day trial. Give us a call, and we will clean any facility (2,000 sq. ft. or less) at no charge for 14 days. No strings attached. If you aren't satisfied with our services, you're not obligated to pay or book us for future services.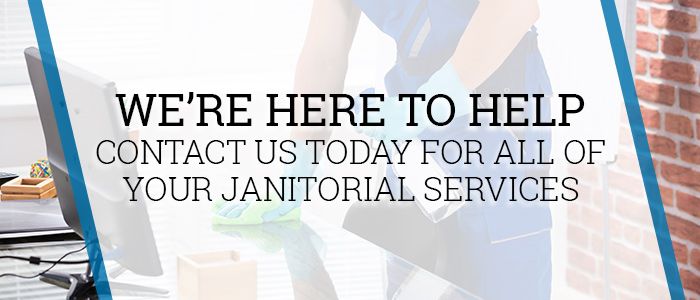 Benefits Of Outsourcing Your Janitorial Services
Cleaning and maintaining a facility is a full-time job. For many business owners, it's a full-time job they don't have the time for. This is why so many have outsourced these duties to trusted janitorial companies. In addition to saving you time, there are a number of other benefits to outsourcing your cleaning services. Still not convinced that you need to partner with a janitorial company? Check out a few of the benefits below:

Regular Scheduled Cleanings
When you partner with cleaning professionals, they are able to offer responsive and regular janitorial services. This means that you can rest assured, knowing that your facility will be cleaned and disinfected on a regular basis — not when you or your employees get around to it.

More Time To Focus On Business
In the business world, time is money. Whether you or your staff is handling your cleaning, you are wasting valuable company time. On top of this, employees want to do what they were hired to do, not clean the facility.

Clean And Healthy Environment
Great janitorial companies have high standards for health and hygiene. When you outsource your cleaning duties, you get to reap the benefits of these high cleanliness standards, which means a clean and healthy workplace that reduces the spread of office sicknesses.

Improved Safety
The cleaner the workplace, the safer the workplace. Maintaining a clean commercial space will not only reduce the spread of germs and harmful bacteria, but it will also decrease the chance of accidents and injuries that are caused by unnecessary clutter.

More Attractive Space
You only get one chance to make a good impression. This is something that businesses know all too well. A well-maintained workplace will make your customers feel confident in you and your business. A professional cleaning company can help you keep your business looking its best.

Cost-Effective
Because of their knowledge, experience, and equipment, professional janitorial companies are able to get more done in less time. Additionally, when you work with an insured cleaning company, you get to transfer the liability and insurance costs to them, saving you even more money.
In order to reap the benefits of outsourcing your janitorial cleaning services, you have to choose a cleaning company that understands your industry and is poised to meet all of your needs. If you are in the San Antonio area and are in need of janitorial cleaning services, contact our professional cleaners. We are a full-service cleaning company specializing in office cleaning.
Regardless of the facility or the type of cleaning service we are providing, we combine our honest, value-driven work ethic with our scalability and detailed service to create a better, longer lasting clean. On top of this, our janitorial services can be tailored to your business, your budget, and your schedule so that you have exactly what you and your employees need in order to be successful.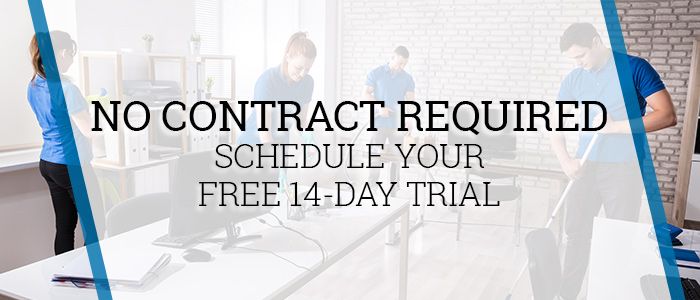 About Us
1st Call Cleaning Services has been in business for 20 years. We were founded on the idea of helping companies big and small get the most out of their janitorial services. We are proud to report that we do just this every day. Our team of expert cleaners is dedicated to providing San Antonio organizations with the professional services that exceed expectations and create a clean, safe, and enjoyable environment for customers and employees.
Have questions? Ready to start your free 14-day trial? We're ready to help! Fill out this online form or give us call at 210-469-8710 to get started!